Who We Are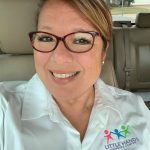 Welcome to Little Hands Learning Center.  As a parent myself, I know that finding the right daycare fit is of upmost importance to you and your family.  I started my career in childcare over 23 years ago with my own in home center providing childcare to people in my immediate neighborhood.  Once I outgrew my home, I opened my own daycare center in the heart of Katy.  After a successful 13 years, I decided to sell my center and take a little break.  Well the childcare bug had me and I couldn't stay away very long and I have spent the last few years working with a few larger corporate child care centers and just recently was the director for one of the largest schools in the country.
Knowing that the heart of Katy has my heart, my husband and I made the decision once again to open our own center here in the heart of Katy.  As well as my years of early education experience, I also bring the knowledge and features of a larger center but put my own home town spin on it to provide the feel of the larger centers with the ratios of a smaller school so your child has more one on one time.
Our Curriculum
Frog Street Infants and Toddlers
Designed around the latest scientific early brain development research, Frog Street Infant and Toddler's is designed to build strong foundations for little ones ages 0-24 month
Center Features
Little Hands Learning Center utilizes the latest in technology and educational research to provide your children a top quality education while keeping them safe and secure in our brand new center.
Secure Video
We have partnered with WatchMeGrow, to offer you secure, high resolution online access to view your child's classroom while he or she is in our care.
Online Kids Reports
We have partnered with Kids Reports to provide real time access to your child's day and share important information and upcoming events with parents.
Industry Leading Curriculum
We utilize the Frog Street Curriculum which prepares your child as they get ready to transition to Katy ISD's Pre-K and K programs which also utilizes this curriculum.
Secure Access
We utilize secure access doors to provide controlled access to our center.  We are able to monitor who comes and goes from our center at anytime while keeping your children secure.